(เรายินดีต้อนรับคนไทยที่ต้องการนำเสนอความคิดเป็นภาษาไทย!)
Are you a healthcare industry practitioner, fitness/wellness junkie, retired athlete, an inspired artist, or simply an enthusiast in the health space? The digital health sector is on the verge of taking off in Southeast Asia. We invite you to help pioneer Thailand's budding digital wellness and health innovation sector along with us! In this thrilling 1.5 day startup weekend event at KX Knowledge Center, hosted by SaladFit – Thailand's first Health Innovation Startup Weekend - here's what will happen:
You will enjoy this stimulating AGENDA we've laid out for you:
Day 1 (Saturday, March 25)
0830-0900 Sign in &BMR with Joe, founder of Bbetter Joe - Successful Taiwanese fitness channel on Youtube
0900-0930 Rules & Breakfast
0930-1000 1-minute Pitching!
1000-1030 Team building
1030-1130 Emphasize for Ideation
Lunch
1230-1800 MVP Prototyping
1800-1900 Rehearsal &Dinner
1900-2200 Roadshow
Day 2 (Sunday, March 26)
0900-0930 Breakfast &BMR with Joe
0930-1200 Continue to work on projects under mentorship
1000-1200 Workshops
Games & Networking
1300-1700 Continue to work on projects under mentorship
You will have the chance to PITCH! IF YOU HAVE AN IDEA that you want to pitch, please email it to levi@salad.co by 3/25. There will be a chance to do a 1-minute pitch in the event!
SaladFit is NOT a hackathon, it is the opportunity for you and I to CHALLENGE and chase our very own entrepreneurial dreams! We are here to create an empowering environment for you to join hands with other endeavoring fellows with various skill sets to explore the possibilities in life.
During SaladFit, each entrepreneur will get a chance to pitch his/her ideas, form a team right on spot, and create something amazing together. Pitching ideas include but not limited to the follow categories in the fitness and wellness space:
Wearable & Smart Apparel/VR application/Biometrics & Physiological data/Community, Method, Brand, Platform

We are passionate about drawing in people of all sectors to unite in health innovation, and creating a vibrant health startup community in Thailand.
You will meet… Yunus Centre at AIT and food accelerator Cinnamon Bridge have partnered with us to make this event a success. In this event, you will meet some spectacular individuals including Dr. Faiz Shah - who draws from his extensive background in Public Health and Dr. Priyanka Kakria - who has pioneered a wearable smartphone-based health monitoring device, as well as Joe of B-Better Joe - successful Taiwanese fitness channel with over 80,000 subscribers. This is your chance to receive their mentorship and guidance.
You could win! We are also offering the following PRIZES!
- Free Consultation service from Cinnamon Bridge food accelerator program
- Free .CO domains
- Free Entry to SaladFit workshops

Plus, BONUS Game Room Activities!!!! ping-pong, pool table, massage room, Xbox, Wii, movies, violent meditation, mini golf, napping, screaming room, board game, temple fair, balloon pop, gym, energy drink party just to name a few.
So, please sign up, invite your friends, Like us on Facebook and join us for what will be an incredible weekend. See you there!!!

P.S. Thai speakers welcome! (เรายินดีต้อนรับคนไทยที่ต้องการนำเสนอความคิดเป็นภาษาไทย) The 699 THB (Student Special 499 THB) signup costs will go to cover the cost of meals provided throughout the weekend. The ticket price includes full participation in the incubation event, 3 meals, a custom-design T-shirt, and other services/gift items from our proud sponsors.
ABOUT STARTUP SALAD: We are China's biggest startup weekend!!! We host 100+ events each year across the Greater China region. We are damn SERIOUS about spicing up the startup scenes, co-create history along with star entrepreneurs and like-minded mentors including 500 Startups, Y-combinator, IDG, among many others.
(Volunteers wanted!! Contact us on Facebook for more detail)
Promo vid: https://youtu.be/He2GEz5FazQ
FB: https://www.facebook.com/saladbkk/
Meetup.com: https://www.meetup.com/SaladFit-Bangkok/
Judges Panel - to udpate
Dr. Faiz Shah - YUNUS CENTER AIT
Dr. Faiz Shah currently heads Development Management at the Asian Institute of Technology, Bangkok, and is the director of Yunus Center AIT. He teaches on the CSR masters program at the AIT School of Management, coordinates the AITE Healthcare Resources Group, co-directs the Energy Distribution Services Management & Technology program, and is a visiting professor at the College of Innovation at Thammasat University, Bangkok
Meet these amazing mentors.... - to update
Dr. Priyanka Kakria - YUNUS CENTER AIT
Dr. Priyanka Kakriacurrently working as Post-doctoral researcher in Biomedical Electronics and System Research Unit at National Electronics and Computer Technology Center: NECTEC Thailand. She received her Doctoral of Engineering in Remote Sensing and Geographical Information systems at Asian Institute of Technology Thailand. Her academic background is Electronics and communication engineering. Priyanka's doctoral research was on developing a smartphone based health monitoring, reporting and alarming system using wearable bio-sensors. She is interested in developing real-time health monitoring and alarming systems specially in remote areas of developing countries Her specialised research area includes, Telemedicine & e-health, smart health monitoring systems and wearable sensor devices.
Wendy Wuyts - YUNUS CENTER AIT
An Industrial Ecologist, Wendy Wuyts analyses local and global problems and their causes in a systematic and interdisciplinary way. Her current research is about circular economy in the Asian Institute of Technology (AIT) ; she is interested how to design out waste and poverty through social enterprises. She combines her research in Thailand with part-time work for the Yunus Center AIT. She was a Board member of EGEA, an European student NGO, which fosters international dialogue, facilitates non-formal education and enables European youth to create their own projects and events. Before, she was active in media and communication and worked for television, a film festival and a documentary house in Belgium. She is engaged in a Belgian sustainable start-up with a network in Indonesia, Hong Kong and Uganda, and supports young female entrepreneurs in the Netherlands to set up a clothing library. She lived already in four countries and visited almost 60 countries.
Pls grant yourself this opportunity to challenge yourself further, push every limit and find out what you are TRUELY made of. With support from mentors from different industries and programs specifically designed to realize your full potentials. Define yourself and don't let anybody tell you otherwise!!
------ADDITIONAL INFO------
WEDNESDAY WORKSHOP @KX
The SaladFit team has partnered with KX Knowledge Exchange to introduce a series of workshops throughout March, for entrepreneurs to experience Digital Health startup space from front row seats! These workshops are designed with innovative tools and approaches to get entrepreneurs up to date on the most relevant issues in the space, with exercises to best prepare you for our main hackathon event taking place 3/25~3/26.
March 8th
Digital Health Ecosystem in Thailand: Intro to healthcare system in Thailand & A discussion on regulatory issues and opportunities for entrepreneurs
Objectives
• Understand Digital Health specific regulatory related issues
• Understand the source and use of medical data
• Identify trends and explore opportunities
Agenda
• Overview healthcare ecosystem in Thailand
• Existing challenges for entrepreneurs
• Data privacy, security, and interoperability
• Market outlook: Emerging trends
• Opportunities, applications, and entry barriers
March 22nd
Personality Psychology and The Digital Wellness Startup – Applications for Your Team and Product Development Phase
Objectives
• From MBTI/DISC vs. sports approach to help entrepreneurs explore business opportunities in areas, such as psychological demand, body-mind connection applications, which are often ignored in the process of ideation Agenda
• Overview on DISC/MBTI testing
• Application
• Designing/replicating experiences to identify opportunities
Are your countless ideas buried by life?
Are your infinite desires being diluted into mediocrity?
You only need 1 weekend!
To regain your dreams and create value within a fun experience!
In this weekend,
You'll be surrounded by fresh hot ideas,
Witness the clash of thinking, continue on to uncover problems, and then resolve all!
You'll form or join a "Team"
And together working hard with fellow partners,
You'll be inspired into making it happen, in the end!
Act now, unlimited possibilities to create await you!
Enjoy creating!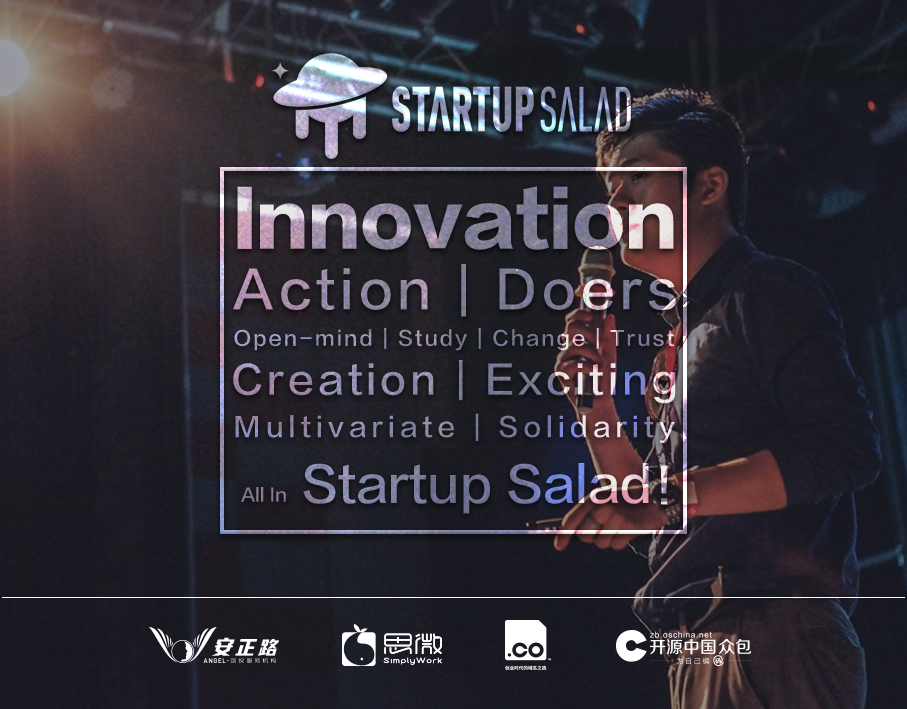 What you can gain from SaladFit?
Find partners that cherish the same ideals
Exposure to Angle VC & Equity investors,
Receive guidance from different industry gurus & mentors.
No talk, all actions!
A whole new team and a prototype.
Fresh startups get first hand feedback, media attention and exposure.

Who will you spend this holiday with?
Participants: They are product managers (PM), marketers (MKT), Designers, programmers and engineers.
Mentors: They are experienced innovators, investors, and professors who bring you expertise.
Judges: They are the elite in different business, successful entrepreneurs and investors; they will give you & your project the most direct feedback.
Organizers & Volunteers: Startup Salad organizers and volunteers are truly special people who use their own free time and with tremendous passion ensure your Startup Salad events are well organized and professionally run world class events.
Audience: Supporters pay to join the events. They are the audience and potential users for the startups offerings.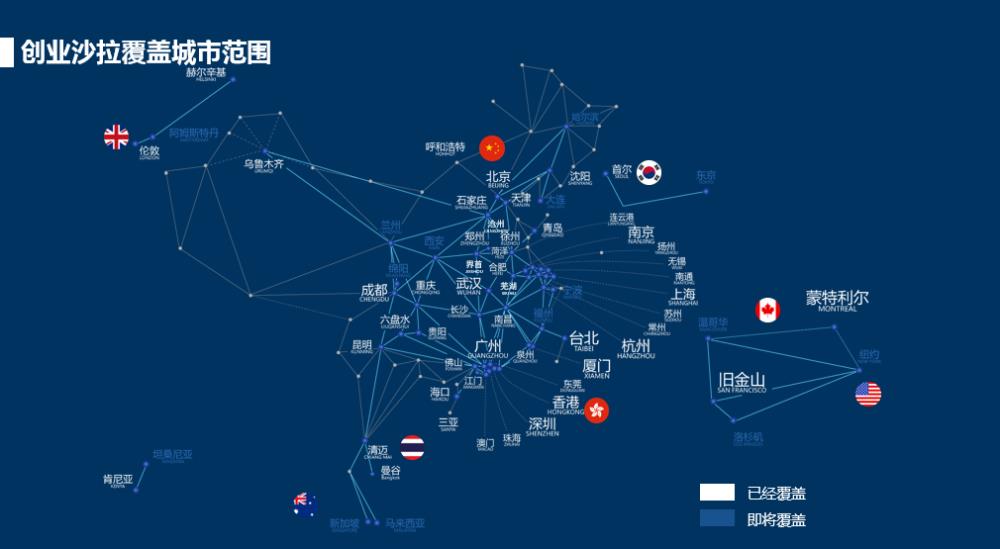 Graduates From Startup Salad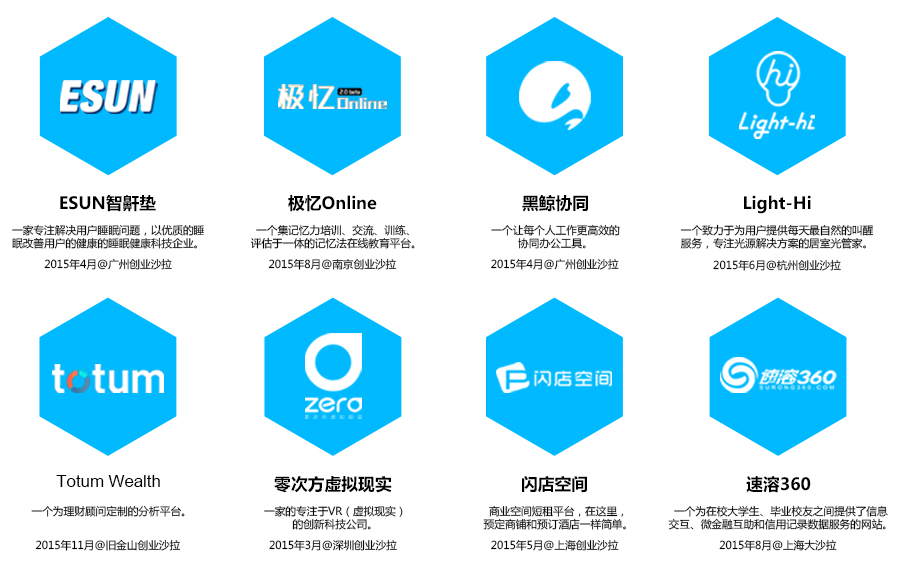 Participant Instructions
Check-in Time: Saturday morning (March 25th) 8.30AM sharp
The fee includes: Breakfast, Lunch, Dinner, T-shirt, Stationery, Internet access.
If you have an Idea to Pitch on Friday night:
Please submit your Idea PPT before March 25th to levi@salad.co
You can only make a 1-page-powerpoint to show your ideas. Remember that you ONLY HAVE 1 MINUTE for your initial pitch on Friday evening.
The download link of our template:https://pan.baidu.com/s/1i4SZZP7
If you don't have an idea:
You can choose your favorite idea after the 1-minute idea pitches on Friday night and join one of the teams.
All the teams will present their product demos or prototypes, which have been completed over the previous 48 hours, to a panel of judges and the audience.


Q&A
Q:Does the organizer provide meals and accommodations?
A:We provide meals, and one event T-shirt. Unfortunately we are not able to provide accommodations at this point.
Q:What's the language being used at the event?
A:Thai and English. English will be the first language but we will provide translation in core sections. You don't have to worry too much about language disparities.
Q:Who goes to the event?
A:Anyone who is interested in the Internet and startups, all types of geeks, and those from backgrounds in developing, designing, marketing, makers or health related fields.
Q:Do we have to have an idea ready in order to participate?
A:Having an idea prepared would be the best scenario. But it's OK to not have one on hand and join other teams.
Q:We have existing teams and products, can we still participate?
A:Everyone should participate as individuals. The event is exclusively aiming for making products, not promoting them.
Q:Will the teams stay together after the event?
A: Some will disperse, others will register companies and get funded, it depends entirely on you and your team. Recently the successful cases of upgrading into a company after the event is MYOtee (has received thousands of funds in RMB and won the first place at App Store), and SixBot (VYLYV) (A wearable devices ideal for men's health).
Q:What characteristics does my idea have to fit?
A:Since this event is specifically hosted for health innovatons, related to health is fine.
Q:For example?
A:Making something that's awesome for the society! Any making idea is warmly welcome! Brainstorm now, and make it happened with us! Does not limit to: Wearable & Smart Apparel/VR application/Biometrics & Physiological data/Community, Method, Brand, Platform just to name a few.
Q:What products should we be making?
A:The best scenario would be code-compiled prototypes (even it's simple), in combination of PPT that includes your business model and market research.
Q:Do I need to be onsite for the whole weekend?
A:Yes. For emergency reasons, please contact your team and the event staff in advance.
Q:I am still working or has formed a startup company, am I suitable for the event?
A:That's OK. You can get some in-depth industry insights and meet potential collaborators, make new friends through the event.
Q:I don't want to participate for the entire event, can I just look around?
A:Best is that you buy the audience tickets for Saturday night.
Q:Can I participate as a coder, and work as a product manager/marketing?
A:No. The entire event is carefully calculated regarding of all the job positions, in order to divide into groups, it will affect the quality of team work and the performance on the spot of the event.
Q:How can I know more about Startup Salad?
A:You could search the wechat id: startupsalad, or scan the following QR code, or view the website: http://salad.co/.